Volume 68, Issue 45, Monday, October 28, 2002
News
Historians support controversy as teaching tool
By Paul Saleeba
The Daily Cougar
A prominent Princeton University historian called for more teachers of history to use "controversy as a teaching tool" during a lecture Saturday on campus.
Nell Painter, along with Linda Gordon, a New York University history professor, and Allan Winkler, an author, all discussed the need for more perspectives in history as well as the need to dispel some American myths, like "family values" which Gordon says never existed.
The event was part of the Project for the Active Teaching of History conference. It was co-sponsored by UH's Department of History and the Museum of Fine Arts, Houston, and featured three speakers to talk about the lack of student interest in history throughout the educational system.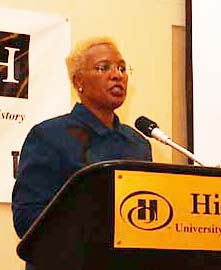 ---
Princeton University history professor Nell Painter said students would be more likely to care about history if its conflicts could be related to their own personal experiences. The lecture, in the UH Hilton Grand Ballroom, was partly sponsored by UH's Department of History and the Museum of Fine Arts, Houston.
---

Pin Lim/The Daily Cougar

"What is bad about the campus at the moment, and what we're trying to change, is (UH) has a commuter mentality; you come, take your classes and leave," said Steven Mintz, UH history professor and host of the conference.

"We believe the University of Houston needs to be an intellectual oasis, a place where really exciting, cutting-edge ideas are debated, discussed and listened to," he said.

This conference was part of the history department's larger effort to bring intellectual speakers to the campus so they are more readily accessible to students. This included linguist Noam Chomsky, who was here Oct. 18.

PATH is an effort to engage students into thinking about history, Winkler said. He wants to "urge students to take chances intellectually."

Often enough people see history as just a course to take to get a degree and not something to actively be engaged in, he said.

The problem is that history is presented as a one-sided story, of good versus evil, told in the most conservative context, the speakers said.

"The liberal and radical standpoint is often overlooked and omitted from history," Painter said. "Controversy itself is a teaching tool," he said.

Painter said students would learn more if they could identified with the often complex issues, like conflicts in their own lives. And the more controversial they are, the more students would think about them critically, she said.
---

The Project for the Active Teaching of History
www.path.coe.uh.edu
Funded by a major grant from the U.S. Department of Education, PATH seeks to enhance the teaching of American history throughout the Gulf Coast region. A joint project of Region 4 Education Service Center, the University of Houston Department of History and College of Education, and the Museum of Fine Arts, Houston, PATH will host a series of summer seminars for teachers and colloquia for the general public.
For additional information: Please contact Debra Williams, Education Specialist in Science/Social Studies Services at Region 4 Education Service Center, 713-744-6846 or dwilliams@esc4.net