Fall Colloquia
"The Idea of Freedom "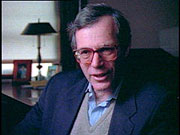 Eric Foner
Thursday, September 16, 2004
University of Houston Main Campus, Houston Room, University Center
---
About Eric Foner

Eric Foner is the DeWitt Clinton Professor of History at Columbia University and ranks among our era's most distinguished historians. In his writings, he takes on the most contentious issues in the American past with extraordinary passion, erudition and insight.

The past President of the American Historical Association and the Organization of American Historians, he is the author of many highly acclaimed works in American history, including...

Reconstruction: American's Unfinished Revolution, 1863-1877

Politics and Ideology in the Age of the Civil War

Who Owns History? Rethinking the Past in a Changing World

Click below to see the streaming video of Eric Foner's presentation at the University of Houston on Thursday September 16, 2004

Eric Foner Presentation

Windows Media Player format
best viewed over a broadband connection
---

The Project for the Active Teaching of History
www.path.coe.uh.edu
Funded by a major grant from the U.S. Department of Education, PATH seeks to enhance the teaching of American history throughout the Gulf Coast region. A joint project of Region 4 Education Service Center, the University of Houston Department of History and College of Education, and the Museum of Fine Arts, Houston, PATH will host a series of summer seminars for teachers and colloquia for the general public.
For additional information: Please contact Debra Williams, Education Specialist in Science/Social Studies Services at Region 4 Education Service Center, 713-744-6846 or dwilliams@esc4.net