Spring Colloquia
"The Filmmaker as Historian"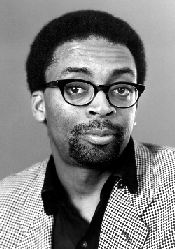 Spike Lee
Monday, February 16, 2004
University of Houston Main Campus, Cullen Performance Hall
---
About Spike Lee

Spike Lee is one of Hollywood's most influential filmmakers. He recently completed for HBO the documentary Jim Brown: All- American and MTV's The Original Kings of Comedy. His most recent films are Bamboozled and 25th Hour.

Other topical and influential films by Spike Lee include Girl 6 and Get on the Bus. These movies follow some of his most critically acclaimed films, Malcolm X, Clockers and Do The Right Thing. In 1986, his debut film, the independently produced comedy, She's Gotta Have It, earned him the Prix de Jeunesse Award at the Cannes Film Festival and set him at the forefront of the Black New Wave in American Cinema.

School Daze, his second feature, helped to launch the careers of several young black actors. Lee's 1989 film, Do The Right Thing, garnered an Academy Award nomination of Best Original Screenplay and Best Film and Director awards from the Los Angeles Film Critics Association. Lee's Jungle Fever, Mo' Better Blues, Clockers and Crooklyn were also critically well received films.

In addition to his achievements in feature films, Lee has produced and directed numerous music videos for artists such as Miles Davis, Chaka Khan, Tracy Chapman, Anita Baker, Public Enemy, Bruce Hornsby and Michael Jackson. His other music videos include work for the late Phyliss Hyman, Naughty by Nature and Arrested Development.

Lee has directed Art Spot Shorts for MTV and a short film featuring Branford Marsalis and Diahnne Abbott for Saturday Night Live. Lee is also involved in documentaries and sport programs, having completed the Emmy- and Oscar-nominated documentary, 4 Little Girls, for HBO and receiving an Emmy award for his piece on John Thompson for HBO/Real Sports. Additionally Lee has authored six books on the making of his films; the fifth book, Five for Five, served as a reflection through pictures of his first five features. He has authored Best Seat in the House with Ralph Wiley. The latest effort in writing is a children's book, Please, Baby, Please, which he co-authored with his wife, Tonya Lewis Lee.


---

The Project for the Active Teaching of History
www.path.coe.uh.edu
Funded by a major grant from the U.S. Department of Education, PATH seeks to enhance the teaching of American history throughout the Gulf Coast region. A joint project of Region 4 Education Service Center, the University of Houston Department of History and College of Education, and the Museum of Fine Arts, Houston, PATH will host a series of summer seminars for teachers and colloquia for the general public.
For additional information: Please contact Debra Williams, Education Specialist in Science/Social Studies Services at Region 4 Education Service Center, 713-744-6846 or dwilliams@esc4.net