Spring Colloquia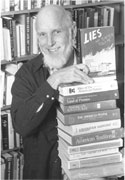 James Loewen
author of Lies My Teacher Told Me and Lies Across America
American history is full of fantastic and important stories. These stories have the power to spellbind, yet audiences sleep through the classes that present them.
What has gone wrong?
Students are right: the textbooks are boring. The stories they tell are predictable because textbooks exclude conflict or real suspense. They leave out anything that might reflect badly upon our national character. No wonder students lose interest. We've got to do better.
Workshop: "Practical Issues in Teaching History"
Thursday, February 13, 2003, 1-3 pm
KIVA, Farish Hall, University of Houston



Lecture: "Lies My Teacher Told me About African-American History"
Thursday, February 13, 2003, Reception: 6:30 pm Lecture: 7:00 pm
University of Houston Hilton, Waldorf Ballroom



Workshop: "Lies My Teacher Told Me and How To Do Better"
Friday, February 14, 2003 , 9-11:30 am
KIVA, Farish Hall, University of Houston

---
About James Loewen
James Loewen spent two years at the Smithsonian Institution surveying twelve leading high school textbooks of American history. He found an embarrassing blend of bland optimism, blind nationalism, and plain misinformation, weighing in at an average of 888 pages and almost five pounds.

In response, he wrote Lies My Teacher Told Me: Everything Your High School History Textbook Got Wrong, in part a telling critique of existing textbooks, but also a gripping retelling of American history as it should, and could, be taught.


Jim Loewen taught race relations for twenty years at the University of Vermont. Previously he taught at predominantly black Tougaloo College in Mississippi.
---

The Project for the Active Teaching of History
www.path.coe.uh.edu
Funded by a major grant from the U.S. Department of Education, PATH seeks to enhance the teaching of American history throughout the Gulf Coast region. A joint project of Region 4 Education Service Center, the University of Houston Department of History and College of Education, and the Museum of Fine Arts, Houston, PATH will host a series of summer seminars for teachers and colloquia for the general public.
For additional information: Please contact Debra Williams, Education Specialist in Science/Social Studies Services at Region 4 Education Service Center, 713-744-6846 or dwilliams@esc4.net