Fall Colloquia
"America Today and America Past"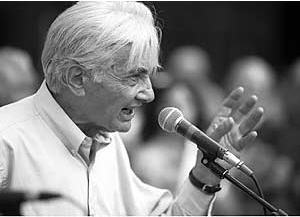 Howard Zinn
Tuesday, September 23, 2003
University of Houston Main Campus, Cullen Performance Hall

Click here to view a streaming video of the event
(requires RealPlayer)
Don't have RealPlayer? Click here to download a free version.
---
About Howard Zinn

A champion of the notion that historical change occurs through mass movements of ordinary people rather than through the actions of 'great men', Howard Zinn is the author of more than 50 books, including A People's History of the United States, which has sold more than a million copies.

"We need to engage in whatever non-violent actions appeal to us. There is no act too small, no act too bold. The history of social change is the history of millions of actions, small and large, coming together at critical points to create a power that governments cannot suppress. We find ourselves today at one of those critical points."

---

The Project for the Active Teaching of History
www.path.coe.uh.edu
Funded by a major grant from the U.S. Department of Education, PATH seeks to enhance the teaching of American history throughout the Gulf Coast region. A joint project of Region 4 Education Service Center, the University of Houston Department of History and College of Education, and the Museum of Fine Arts, Houston, PATH will host a series of summer seminars for teachers and colloquia for the general public.
For additional information: Please contact Debra Williams, Education Specialist in Science/Social Studies Services at Region 4 Education Service Center, 713-744-6846 or dwilliams@esc4.net